Casting Appointment Info
Call 020 7482 5552 or email tam@everlastingcastings.co.uk to book your appointment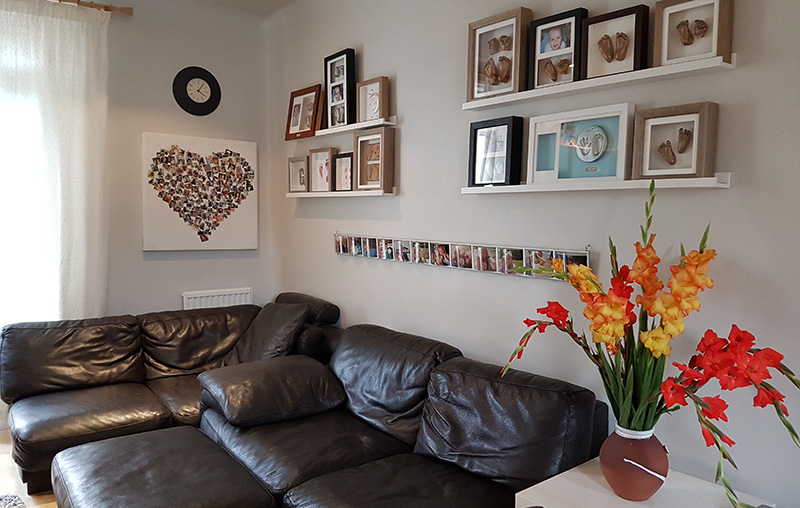 Professional baby casting appointments can be planned to suit your baby's routine. Baby hands and feet are cast in plaster then painted in classic or pearl white or metallic bronze, silver or gold paint. All prices quoted are for a baby up to 1 year in a Classic frame, unless otherwise stated. A small surcharge will be applied for Deep With Pine Box, Coastal, Luxury Hardwood & Luxury Vintage frames.
Once you arrive, you will be offered a drink and given time to feed or change your baby, if needed. Tam (the owner) does all of the castings and will show you samples of the different frames, paint colours, plinths and engraved name-plates.
The impression material used is dental alginate. So if you have ever had one of those gum shield-like dental impressions you will know what it is. Worldwide, it is used by dentists in adult's and children's mouths and by liefcasters to make moulds. It is completely safe to use on babies hands and feet.
However, if your child has any kind of skin problem you must seek advice from your GP before having a cast done. It would also be wise to wait until any blemishes have cleared up as they will show up in the cast as all the detail is picked up. Remember that sock marks will show up in the casts so don't dress your baby in ribbed socks or take them off as soon as you arrive so the marks wear off.
The process to take each mould is very fast - about 2-3 mins as the mixture sets in that time. The impression powder must be mixed with cool water especially in hot weather or the mixture sets too fast. If you are having hand casts made, two moulds will be made of each hand. This is to ensure we obtain a good result as hands can be a bit trickier: the mould can split if a clenched fist is not uncurled; curled fingertips can be lost due to air bubbles. If we obtain 2 hands, we will email you a picture of them so you can choose which one to mount/frame. The second one can be finished and painted for £20 extra or you can have it as it is. We have a pretty good success rate!
Once your moulds are made they will be cast the next day and left to dry out for a 2-3 weeks. Then they will be finished by our expert team and mounted in your chosen frame.
Turnaround
The turnaround is normally 4-6 weeks but this can extend at busier times or during the school summer holidays. If you have a deadline please let us know when you book. We can usually rush an order through within 2 weeks.
Photos
If your frame will have a photo, bring it along to the casting appointment and we will put it in the frame for you when we mount the casts. Or bring one along when you collect and we will put it in while you wait. You'll fnd it easier to choose your frame, mount and paint colours if you have a photo in mind and know where you will hang the finished frame!
Payment - We ask you to pay half the order value at your casting appointment and the other half on collection. There is a cashpoint 2 doors away. We offer discounts for twins or if you book with a friend and come together.
Collection
Normally customers collect their finished casts from us to avoid damage in transit. If you need us to post your casts, we do not stick the casts in the frame as they could break off and smash around inside. Instead, we will carefully wrap them and provide you with glue and instructions for sticking them into your frame. The courier charge for mainland UK is £10.
Parking
We have visitors e-permits for the nearby bays. Please call when you arrive and someone will meet you to arrange the permit. Click for full details of how to find us
Your appointment should take about 1-1.5 hours depending on what you are having done. Your child will be on your lap during the casting. We can make the mould while your baby is feeding as they are often so pre-occupied they don't even notice it being done.
You can bring a partner, family member or friend to assist you/take photos/watch. Especially useful if you need to bring an older sibling along. We have some toys and CBeebies to help keep them amused!
The mould is destroyed as the cast is taken from it so each cast is unique, 1 mould = 1 cast.
We are a home studio so you can feed your baby in comfort and privacy before, during or after your casting session. We are also happy to wait if your baby is sleeping when you arrive or you need to change his nappy.
All prices quoted are for babies under 1 year. We can do older children. Please contact us for a quote.

Baby and belly casts must be collected within 3 months of completion unless an arrangement has been made. Any casts not collected within 1 year will be disposed of or used as samples.

Recently we have had a few customers who have not shown up for their booked appointment and have not replied to our texts, calls or emails to give an explanation. Please be aware that we are unlikely to re-book an appointmnt if you have failed to attend a previous one with no reason.
Call 020 7482 5552 or email tam@everlastingcastings.co.uk to book your appointment