Book A Baby Casting Course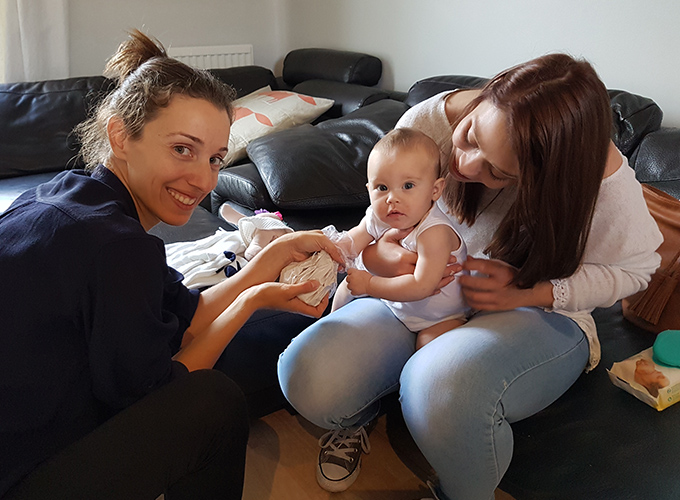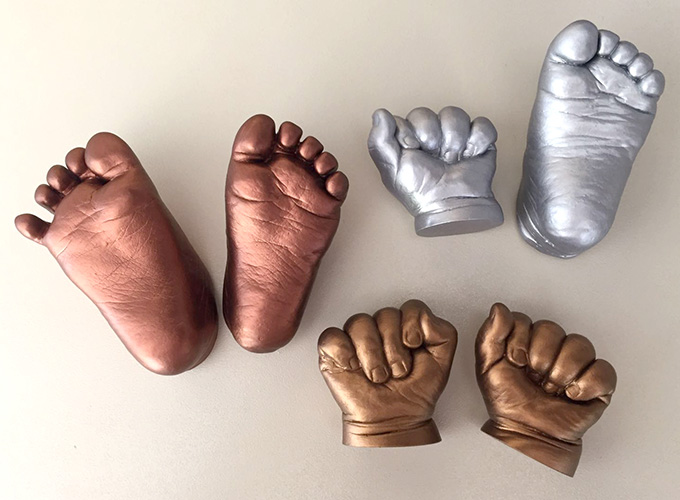 Here is Baby Casting Trainee Andrea, Mum Hannah and the gorgeous 6 month old baby model Amelia and the casts made on the day. Andrea also took some clay impressions and inkless prints.
Tam has 13 years' casting experience and personally provides the one-to-one hands-on training with a real baby model. Her expertise and experience is second to none. You will leave excited to get started and confident of achieving good results.
The intensive one- day Baby Casting Training course runs on a Wednesday from 10am-4pm at Everlasting Castings in Central London (237 Kentish Town Road, NW5 2JT) and covers the following:
Explanation of different moulding techniques for different ages – plastic bag, J cloth or container

Create moulds using real baby model

Explanation of Mother and Baby clasped hands statuette technique

How to take a clay impression using baby model

How to make a raised impression

Trim clay and explanation of drying technique

How to take inkless prints using baby model

Tidy 3D moulds

Pour casts and leave to set

Lunch – questions and answers

De-mould casts

Tidying up techniques – Hints and tips to make perfect casts every time

Painting and displaying

Choosing a frame

How to photograph your work

Marketing tips

Insurance

Health & Safety

Questions and answers
Lunch will be provided.
We will give you the course notes, a starter kit to take home with you including baby casting materials, clay, paints and a Luxury Hardwood square box frame.
You will be able to take home the casts and impressions that you make on the day to use as samples.
Tam will personally provide support via email/phone for 1 month and then on-going support provided you are buying frames etc. from us regularly.
The cost is £450 and is on a one-to-one basis. You will need you to pay a deposit of £100 three weeks before the booked course date as I will need to book that day out for you.
The balance of £350 is payable on the day.
Once you have completed your course we offer a huge range of frames and materials etc. on a wholesale basis with no minimum order quantity and low delivery charges. Our frames are specifically designed for baby casts, clay impressions and 2D outprints. You can order any mixture of different frame quantities, styles, sizes, colours and mounts or just one frame on its own.
Contact Tam to book your training course today.